Proposed Green Line
We must rethink the high-cost, high-risk Green Line proposal.
With ballooning costs and greater risks, there is a more affordable option.
As taxpayers, we are concerned!
Local journalists agree with us. 
Respected transportation and engineering experts agree with us too.
To learn how the Green Line proposal keeps changing, see these City reports:
There is a more affordable option!
Contact Us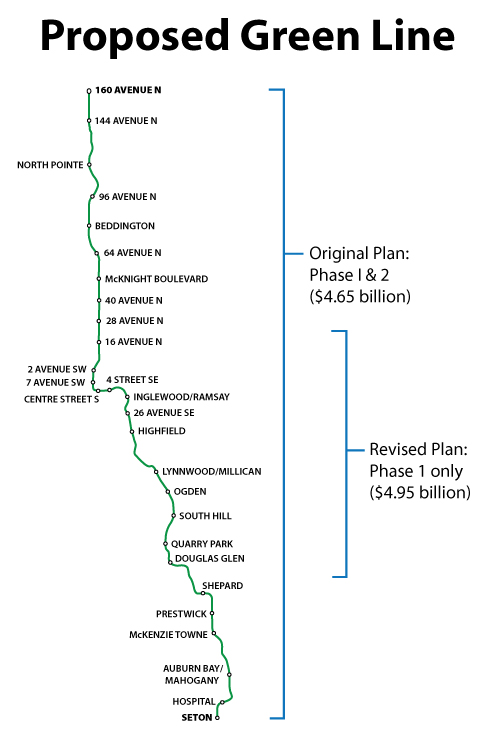 Project shrinks as costs grow 
2017 (original plan)
Connect northeast communities to southeast communities (44 kms + 24 stations)
Budget: $4.65 Billion
2020 (revised plan)
Stage 1: Shepard to Eau Claire (20 kms + 15 stations)
Underground tunnels for downtown section
Revised budget: $4.9 Billion + $500 MM (for financing) + cost of development manager
2022 (current status)
Ground-loading cars purchased from Spanish supplier (not compatible with existing platform-loading cars)
Revised budget: $5.5 Billion
Spent to date: $1 Billion
2023 (ongoing)
Contractor consortium selected with their cost estimates to be confirmed in 12-16 months
Spend by year end 2023: $1.5 Billion
It's never too late to do the right thing!
Join us to voice your concerns.
Share our site with family and friends. 
Revised budget: $4.9 Billion + $500 MM (financing)
$1 Billion spent so far Upgrading utilities
Cost by year end: $1.5 Billion (est)